🎨Ideal decorative lamps for aquarium, party, pool, pond, aquarium, stage, spa, vase, plant, fountain, hot tub, bathroom and bedroom.🌈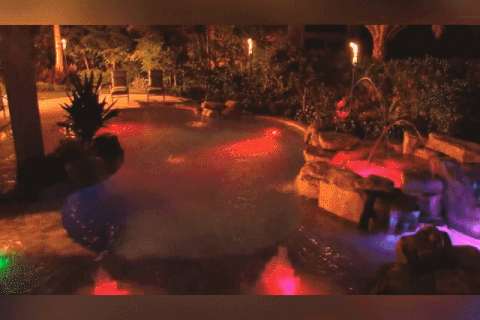 FEATURES:
Multicolored and multi-mode - Designed with 16 static colors and 4 dynamic color-changing modes, this immersive magnetic light produces the cool and magical atmosphere you want. Instead of an old IR remote control, it uses the radio frequency to control the light more sensitively and reach as much as 80ft in air, which also greatly improves the control's performance in water.
Extreme waterproof design - IP68 waterproof level, which is the highest level of waterproof classification standards in the United States. The creative dust lamps are designed with a special waterproof structure and made of high-quality waterproof materials, combined with two high-quality waterproof silicone rings, which provides a stronger waterproof function than similar products on the market. In addition, the underwater lighting easily immerses in the water, taking full account of the counterweight
LONG WORKING TIME - This whirlpool bath lamp has a larger battery compartment than the regular lamps on the market with 3 x AAA batteries, which are powered by 3 x AA batteries (not included), four-chip lamp, which is more energy efficient and provides twice the driving time. Perfect for lighting vases, aquarium, aquarium, pond, pool, pool, garden, wedding, party, Halloween, Christmas. Romantic and sweet.
THREE FIXING METHODS - This spa lighting base has a special mounting hole and magnetic design, which matches the suction cups we provide, it provides at least 3 practical ways to fix the light to your pool or hot tub. You can absorb on the clean iron surface, or attach to a smooth surface such as mirror ceramic with suction cups; Hanging the nail head through the mounting hole is also easy to do, flexible and convenient.
SPECIFICATIONS
Model: Diving light with remote control
Input voltage: 4.5 (V)
Number of LED beads: 13 (pcs)
Luminous flux: 360 (lm)
Color temperature: 2900 (K)
Lighting efficiency: 360 (lm / w)
Power factor: 0.06W
Light emitting angle: 360 (degrees)
Color rendering index: 3000
Size: 7 * 3 CM
Protection level: IP68
Light control: adjustable
Control method: remote control
Lifespan: 50,000 (H)
Scale material: PS
Area of ​​use: holiday party and party decoration
Lightweight battery: 3 * AA batteries (not included)
Remote control battery: (with button battery)
The package contains: 2/4/6 * (13 lamp suction cups + IR28 key + 2 suction cups)