❤️The first 100 orders can enjoy VIP shipping insurance, we will process your order faster.
❤️ 98.99% Of Customers Buy 2 or 3pcs
✈️Boeing B-29 Super Fortress Airplane Wind Spinner.All steel construction.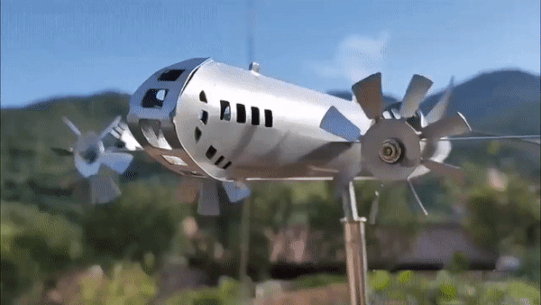 ✈️B-29 superfortress had a straight-wing four-engine aerodynamic layout and was the largest bomber fighter of the United States Army Air Forces in World War II. It used the advanced technology of the time and was known as the "super air fortress". Our 3D metal windmill spinner is based on the shape of this legendary bomber.They sway slightly in the breeze like real flying.Make your yard cool and special and make your neighbors envy.

✈️B-29 superfortress outdoor windmill is constructed with durable stainless steel metal components and a long-lasting combo finish of paint and foil, not afraid of rainy and other severe weather, bright metallic and reflective painting creates a visual sensation in the garden, that will attract the eyes of passers-by and neighbors and arouse their admiration.
✈️super fortress airplane windmill designed according to the B-29 bomber, with a decorative wind wheel, as long as the wind blows,it will drive 4 propellers to rotate. Can bring a lasting look and feel, Great outdoor decor for military fans.
✈️These garden spinners are suitable for gardens, potted plants, flower beds, lawn, home decoration,party favor supply, shopping mall layout, large park exhibition, decorative props.
Features:
Moves with wind, even in slight breeze
Sealed bearings
Replaceable bearings
Plane is 31*30 cm
2 inch fan blades
70 cm tall mounted in ground
78 total length
Note:
Our products are all handcrafted and available in limited quantities.